About the Artbook

The Titash Artbook gathers a selection of the latest illustrations and creations made by Titash from 2010 to 2016. It features drawings, illustrations, Livepics, various doodles, as well as a few "Works in Progress" and preliminary sketches. All those works shared online on the Titash Artblog are now curated in this book, enabling you to discover or rediscover his creative universe. The creations and their elaboration process are explained in a hierarchical way, approaching some topics and projects dear to the author.
About the Author
Titash, also known as Jonathan Franczyk, is a French "cartoonist" Illustrator. He also works in the field of computer graphics and web design. His works are mainly influenced by the Franco-Belgian comics style, and the American cartoons. His works usually blend traditional and digital drawing. Experimenting with new techniques and ideas holds a particular importance in his creative process. It is with this mindset that a new, important image series project, the
Livepics
, was born in 2013, which mixes photography, illustrations, and visual effects. He self-publishes, in summer 2016, a booklet which describes his creative universe and curates a couple of creations he made the years before.
Book Content

About the Artbook
Sketching
Traditional Inking
Digital image coloring
Playing with shapes
Traditional coloring
The Livepics project
Sketchbook
Gallery

Technical informations

Langages:

English and French


Type:

Paperback book


Size:

A5 (148 x 210 mm) x 7 mm thickness


Weight:

200 grams


Soft cover:

4 colors pages (350 g/m² paper) with Soft-Touch Varnish


Inside pages:

64 colors pages (170 g/m² paper)


Selling price:

15 €


Online sales:

worldwide


ISBN:

978-2-9558039-0-5
Giant Postcards
This set of four cards (each A5 size, front printed, blank back) is also available for sale at 10 €.
To benefit, choose the formula "1 Artbook + Cards". These illustrations come from the book in which their creative process is detailed there. They are themed after the 80s and 90s.
Book Preview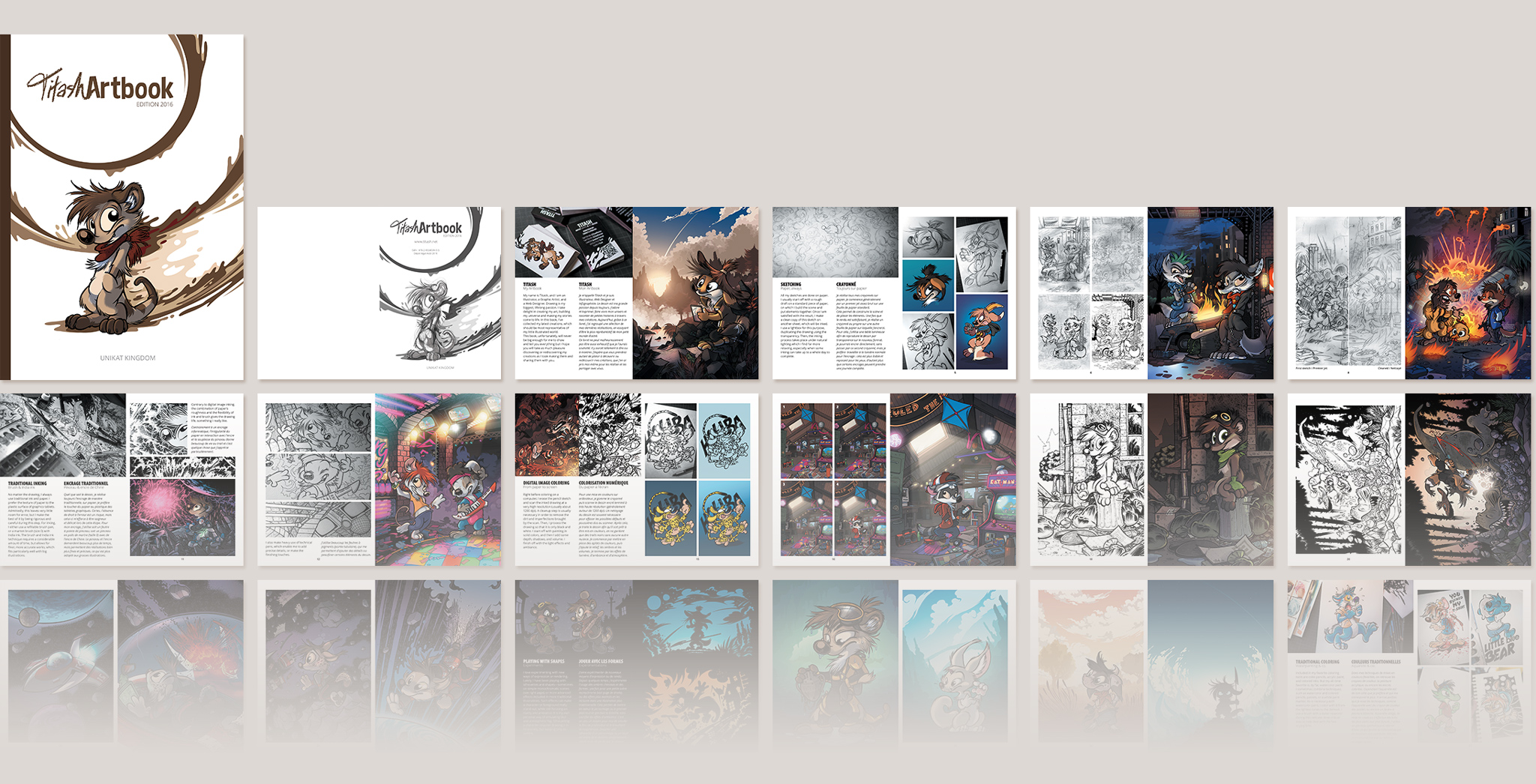 Artbook Online Store
Shipping location
Select your shipping location for accessing the store.
France

France métropolitaine, Andorra and Monaco.

European Union & Switzerland

Austria, Belgium, Bulgaria, Croatia, Cyprus, Czech Republic, Denmark, Estonia, Finland, Germany, Greece, Hungary, Ireland, Italy, Latvia, Lithuania, Luxembourg, Malta, Netherlands, Poland, Portugal, Romania, Slovakia, Slovenia, Spain, Sweden, Switzerland, United Kingdom.

Rest of the World

All others countries arround the World...